Yolo County Historical Collection
The Yolo County Historical Collection is comprised of 11,000 objects which date from the 1830s to the 1930s. The collection includes textiles, agricultural equipment, paintings, archival materials, ephemera, photographs, archaeological items, tools, ceramics, household items, furniture, and personal items. This collection illustrates what life was like for early Yolo County residents.
Yolo County Historical Collection
512 Gibson Rd
Woodland, CA 95695
530-666-8147
iulia.bodeanu@yolocounty.org
Museum Open: Thursdays 2:30pm-5pm
Museum Collection Research by Appointment
Exhibitions
Side-by-Side: Historic and Contemporary Ceramics 
March 16th through June 24th is the exhibition Side-by-Side: Historic and Contemporary Ceramics at the Gibson House and Property located 512 Gibson Road. The exhibition highlights the artwork of contemporary local ceramic artists Ray Gonzales, Zen Du, William Peterson, Shenny Cruces, Sandy Whetstone, Linda S. Fitz Gibbon, Michelle P. Kern and Ianna Nova Frisby, alongside objects from the Yolo County Historical Collection.
Opening reception is on Thursday, March 17th from 5pm to 9pm and coincides with the National Council on Education for Ceramic Arts (NCECA) Conference, Fertile Ground in Sacramento from March 16th through March 19th.
Open Hours: Wednesday 3/16 10am to 5pm, Thursday 3/17 5pm to 9pm, Friday 3/18 12:30pm to 5pm, Saturday 3/19 12:30pm to 5pm. Ongoing open hours: Thursdays, 2:30pm to 5pm. Download the exhibition guide HERE.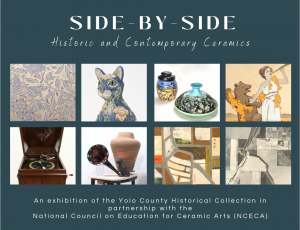 Learn More about the Yolo County Historical Collection