52: A Yearlong Reading Journey
Where will it take you?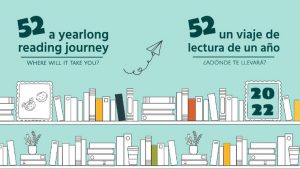 Survey Time! 
Please take a few minutes to tell us about your experience with 52: a yearlong reading journey. Your feedback will inform how the yearlong challenge looks in 2023. This survey will be open until October 31st. Thank you for your participation.
Click on the link to take the survey: https://forms.gle/fGwVPG8PrkYSPbtS7. 
READ, READ, READ in 2022!
52 is different from other reading programs: It lasts all year long, offers loads of reading suggestions through prompts, and provides a space for you to share favorite books with your community.
How does it work?
Pick up a reading journal at your local library branch OR
Sign up on Beanstack to join the program digitally
Your challenge: Read as many books as you can in 2022

use our weekly prompts OR
read whatever books YOU choose

Log your books in your reading journal or on Beanstack
Share your favorite books with your community. Each branch has a display for you to post your favorite titles. Look here for great reading recommendations from fellow book lovers like you, too.
If you would like to receive monthly prompts via email, contact us at yolocountylibrary@gmail.com with the subject heading: 52.
Printing Instructions:
Open the file in your PDF reader of choice, or on your web browser.
Select File, Print to print the page.
If your printer is able, select the box to print on both sides of the paper, and select "Flip on short edge".
Once printed, fold the entire journal over left to right, and staple the binding.
Don't want the fuss? Stop by your local Yolo County Library branch to pick up a pre-made journal!
52: un viaje de lectura de un año
¿Adónde te llevará?
¡LEER, LEER, LEER en 2022!
52 es diferente de otros programas de lectura: dura todo el año, ofrece un montón de sugerencias de lectura, y un espacio en la biblioteca para que compartas tus libros favoritos con tu comunidad.
¿ Cómo funciona?
Consigue un diario en papel en tu sucursal local O
Inscríbete en la aplicación Beanstack para unirte al programa digitalmente
Tu desafío: lee todos los libros que puedas en 2022

utiliza nuestras sugerencias semanales O
lee cualquier libro que elijas

Registra tus libros en tu diario o en Beanstack
Comparte tus libros favoritos con tu comunidad. Cada sucursal tiene un tablero donde puedas añadir los títulos de tus libros favoritos. Busca ahí buenas recomendaciones de lectura de compañeros amantes de los libros como tú.
Si te gustaría recibir los avisos mensuales por correo electrónico, ponte en contacto con nosotros en yolocountylibrary@gmail.com con el título: 52.
Instrucciones para imprimir el diario:
Abre el archivo en el lector de PDF de tu elección o en tu navegador web.
Selecciona Archivo, Imprimir para imprimir la página.
Si tu impresora es capaz, selecciona la casilla para imprimir en ambos lados del papel y selecciona "Voltear en el borde corto".
Una vez imprimido, dobla todo el diario de izquierda a derecha y engrapa la encuadernación.
¿No quieres el alboroto? Pase por su sucursal local de la Biblioteca del Condado de Yolo para conseguir un diario ya hecho.