Shipley Walters Center for Yolo County Archives and Library Services
Library Central Services
Hours
9 am – 5 pm Mon – Fri
Yolo County Archives
Hours by Appointment
9 am – 1 pm Tue
12 pm – 4 pm Thurs
Click here for more information about patron appointments during COVID-19.
Yolo County Collections Database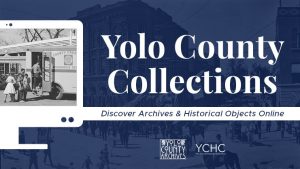 This site contains digital reproductions and information about the historic records and objects from the Yolo County Archives and the Yolo County Historical Collection.
Click here to view videos that provide an introduction to the database and search techniques.
Recordings of Archives Talks & Presentations
Visit the Yolo County Library's YouTube page to watch archived recordings of presentations and talks, hosted by the Archives.
Online Access to Select Documents
Yolo County Archives Exhibits
Explore digital exhibitions from the Yolo County Archives. New exhibits are added over time.
California Revealed
Look at audio-visual collections from California's public libraries and local heritage groups. California Revealed helps to digitize, preserve, and provide online access to archival materials, including collections from the Yolo County Archives and the West Sacramento Historical Society.
Calisphere
Search through aggregated digital collections from a number of California repositories.


Yolo County Maps
View digitized maps of Yolo County from the Yolo County Archives.
Board of Supervisors Document Search
Search Board of Supervisors Annual Minutes (1980-present) and Meetings Packets (1988-present) through this online database.
Other Sources for Online Archival Materials
California State Archives
California State Library
Library of Congress
National Archives
Smithsonian
Archives Unbound
About the Archives
The Yolo County Archives, founded in 1985, is the official repository for Yolo County records. Its permanent collection pertains to the history of Yolo County from approximately 1850 to the present. The collection contains records from various Yolo County agencies/departments as well as family collections from community members and local businesses. The materials include maps, blueprints, photographs, bound volumes, manuscripts, newspapers, yearbooks, and secondary sources in the form of published books and articles.
Volunteers
Volunteers at the Yolo County Archives assist with research, transcribing documents, processing collections, creating finding aids and folder/box lists, exhibits, and displays. All positions require the ability to understand and follow specific instructions, perform detailed repetitive tasks, communicate effectively with the public and county employees, and work as an effective team member.
Please contact Archives staff to learn about available opportunities. 530-666-8010 or archives@yolocounty.org.
Friends of the Yolo County Archives
The Friends of the Yolo County Archives is a nonprofit corporation, founded in 1987, whose purpose is to support the services and facilities of the Yolo County Archives and to preserve, protect, and ensure the wisest possible use of the county's historical records. If you are interested in becoming a member please call or visit the archives.
Yolo County Historical Collection
Learn more about the county's three-dimensional historical collection here.