ReadyRosie Early Learning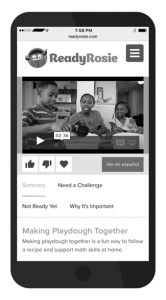 ReadyRosie is a simple tool to:
Discover activities and games you can play that will help your child succeed at school.
Have more fun than ever with your child through learning together!
The best part is that each activity/ game is shown in a 2-minute video so you and your child can watch it together and then play the game. You will receive these videos and communications via text message and/ or email.
Interested? Take a look at this short video about Ready Rosie.
Sign up here by entering your zip code and selecting Yolo County Library.