El Día de San Valentín
El Día de San Valentín por lo general es un día festivo mundialmente. En México se conoce como el Día del Amor y la Amistad. Como en México, en muchos países por lo general la gente disfruta de este dia especial con sus seres queridos. En los últimos años, a causa de la pandemia ha resultado difícil celebrar este día especial con nuestros seres queridos. Para muchos de nosotros este año no es diferente. En tiempos duros como estos es necesario modelar la resiliencia a los niños y mostrar que a pesar de los cambios nos podemos unir en comunidad con nuestros seres amados. Lo bueno es que la tecnología ha servido mucho a nuestro favor para aun poder reunirnos con nuestros seres favoritos. Aplicaciones con la capacidad de video han resultado especialmente esencial para comunicarnos con unos a otros durante la pandemia.
Las bibliotecas no son la excepción y nos hemos adaptado al cambio ofreciendo programas virtuales gratis a nuestra comunidad como un gran gesto de amor. De nuestra biblioteca a Ustedes, aquí les comparto 3 eventos virtuales para celebrar el dia del Amor y la Amistad todo el mes:
Para entrar a un evento virtual por favor consulte nuestro calendario de eventos aquí.
1. Hora de Cuentos Bilingüe con Miss Gaby
Disfruta de canciones y cuentos con tus seres pequeños. Lose lunes de Las 6:30 a las 7:00 de la noche.
2. Mother Goose on the Loose (Madre Gansa Anda Suelta)
Lose martes acompáñanos a las 10:15 am para escuchar cuentos, cantar canciones, recitar rimas clásicas para bebés y sus seres queridos. Este programa está especialmente diseñado para el desarrollo emocional y social de tu bebe.
3. Almuerzo y Cuentos con Amigos
Lose miércoles, únete a nosotros virtualmente con tu almuerzo favorito, participa en actividades y escucha cuentos en Inglés.
Por ultimo, aqui les comparto 3 libros bilingües con temas que hablan sobre el amor y la amistad: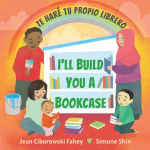 1. I'll build you a bookcase = Te Haré Tu Propio Librero por Jean Ciborowski Fahey
En este dulce cuento en rima, el amor por la lectura comienza con un humilde librero casero. 'Te haré tu propio librero' celebra lo maravilloso que es leer con nuestros seres queridos y nos recuerda que la magia de la lectura nunca envejecerá.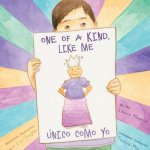 2. One of a kind like me = Único Como Yo por Laurin Mayeno
Esta es una dulce historia sobre el amor incondicional y la belleza de la individualidad. Es un libro único que levanta a los niños que no se ajustan a los estereotipos de género, y refleja el poder de una comunidad amorosa y de apoyo.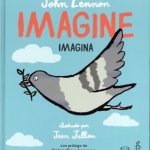 3. Imagine = Imagina / John Lennon
Únete a esta palomita en su viaje por el mundo para difundir un mensaje de paz y amistad entre las aves de todo el planeta, de todos los tamaños y colores. Con la letra de la inmortal canción de John Lennon y creado en colaboración con Amnistía Internacional, este libro conmovedor se atreve a imaginar un mundo en paz.
TAGS: Socio-emotional, Storytimes, Celebrations