Are We There Yet?
Whether it's visiting relatives or running a quick errand, planning an outing with kids tends to be a bit stressful for everyone. Children naturally love to discover new things and new places.  Sometimes, though, the journey to reach those fun moments can take too long. It's tempting to plop them in front of a screen to prevent tantrums and whining but fear not, it's entirely possible to have a happy and incident-free trip. Here are five tips for traveling with your children:
Sufficient Snacks
Snacks are the key to keeping the peace on a long trip. Having healthy snacks without a lot of sugar will help you and your little one have a pleasant trip. Try nuts, crackers, cheese slices, and fruit. These snacks will keep your little one calm during a long and possibly noisy trip. Remember, children do not always know how to express their physiological needs, that is why it is important to bring at least one snack for every hour of the trip.
Headphone Heaven
Invest in some noise-canceling headphones. Children, neurodivergent or not, face an enormous challenge while physically being in a new and noisy environment. A pair of headphones is a wonderful tool for your child to stay emotionally regulated during the trip, whether they feel tired and want to block out the noise to sleep or feel overwhelmed by the sounds around them.
Test of Time
Since children learn the concept of time throughout their lives, it is your responsibility to remind your child of what is going to happen during your trip to avoid meltdowns. For example, you can start by telling them where you plan to go an hour in advance and pick out an outfit together to get ready for the trip. Try to include your child in all activities in preparation for your trip and start a countdown every ten or five minutes, thirty minutes in advance before you travel.  With practice, you will learn what works best for your child.
Mountain of Messes
When traveling with children, it is inevitable that some kind of unexpected mess will occur. As a parent or child care provider, you're probably already used to spilled cups of milk, clothing drenched in food, etc., so you're typically prepared for anything. A trip on public transport is no exception, so remember to bring a spare outfit and extra diapers.
Badly Bored
Children have a shorter attention span than adults. This ability to stay focused strengthens as they get older. That is why as parents or guardians we can't really expect children to entertain themselves all the time. Instead, doing enriching activities that allow for learning will make the trip a better experience. For example, a scavenger hunt or bingo with objects along your journey will be fun and a great brain exercise. Don't forget to check out the sample trip activities I've provided at the end of this blog! Singing songs or reading books before, after, or during your trip is also a great option. Finally, although these activities undoubtedly help keep your little one entertained, remember that it is healthy to let your children explore the labyrinths of their own minds to strengthen their imagination.
As always, here are some cool books to read along on your next trip on the bus or the metro with your little ones: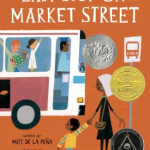 Last Stop on Market Street / La Última Parada de la Calle Market
A young boy, CJ, rides the bus across town with his grandmother and learns to appreciate the beauty in everyday things.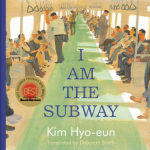 I am the Subway by Kim Hyo-eun, Deborah Smith 
A cinematic journey through the Seoul subway that masterfully portrays the many unique lives we travel alongside whenever we take the train.
School Readiness Kit: Transportation
This learning kit contains books, toys, and various activities themed around the different modes of transportation.
TAGS:  Transportation, Travel